0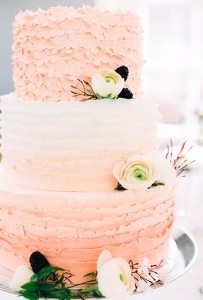 Sure the calendar says it is only the middle of August but we all know that fall is right around the corner. However, I'm still clinging to summer with all my might, which means we're still going to talk about summer wedding cakes.
Just like today's beautiful pink and white creation.
This gorgeous three-tiered cake features light pink and white icing with a ruffle design that really pops.
But what I love more than the ruffles are the sugar flowers that adorn the top tier of the cake. They really add some depth to the cake.
The ruffles on the bottom two tiers are elegant and the flowers are a bit playful – it's a fun theme for a wedding cake.
This cake would be ideal for your summertime wedding, provided you love pink. Adding a few fresh blooms is the perfect finishing touch for the cake.
You can find this wedding cake here. It was created by Sugarlips Cakes.
Read More:
floral wedding cakes
,
pink and white cakes
,
Pink wedding cakes
,
summer wedding cakes