yellow roses on wedding cakes
0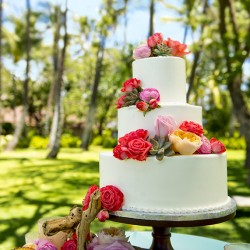 I absolutely love roses on wedding cakes.
I'm not sure if it's because I love roses or because there are so many colors and varieties and they all look stunning on a wedding cake.
But whatever the reason, if there is a cake with roses I'm going to swoon. Read More
0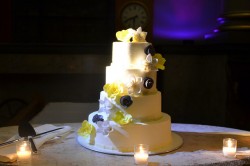 Sometimes it's the simple and elegant cakes that really grab your attention. Case in point – this beauty.
There is much to love about this cake, starting with the Read More
0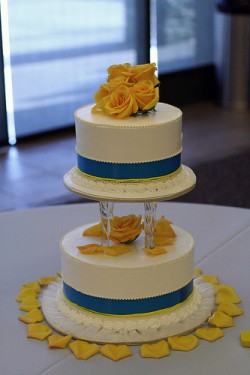 I love fresh color combinations and this blue and yellow is one of them.
Blue and yellow is a combo that can go drastically wrong though.  At times if the blue is too dark or the yellow is too gold it can come off a bit "sports fan". Unless, you are specifically having those colors at your wedding because you are indeed the worlds biggest fan of whatever team you love..well then.  True story, I once went to a wedding of a friend who was such a big Clemson fan that she had her wedding in purple and orange.  We don't have much here in South Carolina but we love our college football.
Back to blue and yellow..particularly this blue and yellow.  I love.  The blue is just light enough and the yellow is bright and sunshiny.  It makes me thing of Spring.  I love the yellow roses too.  I know they traditionally mean friendship..but who cares..they are so fun!  What do you think?  Do you love blue and yellow?  Do you know someone who had a sports team themed wedding?  Was it well done or over the top tacky?