0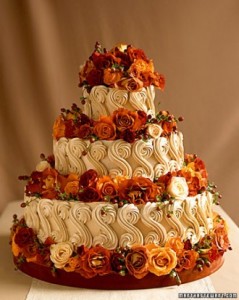 Roses are one of my favorite flowers to choose when you want to add fresh flowers on a wedding cake.
There are so many colors and varieties of roses which means you can use them year-round no matter the season.
If you're planning a fall wedding you can think about using deep hued roses like Black Magic roses or even some lighter reds and orange colored roses like the ones used on this cake.
I love this cake not only for the roses used but also because the icing is so fancy. You could have done a plain, smooth icing on this cake and adorned it with roses and it would have been pretty. However, the swirls of ivory buttercream add depth and elegance to the cake.
Add in the different colors and types of roses and you have a stunning wedding cake for your fall wedding.
You can find this wedding cake with roses here.
Read More:
fall wedding cakes
,
floral wedding cakes
,
ivory wedding cakes
,
Roses
,
roses on wedding cakes