0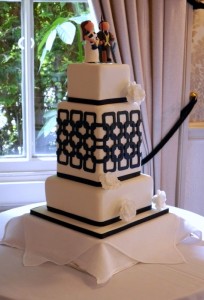 I leapt at the chance to feature this beautiful cake by Cakes By Beth in Manchester, UK.  Isn't it gorgeous?
When Beth originally met with the bride and groom, they had very few specific ideas about how they wanted their cake to look.  They knew they wanted four tiers and something simple in design that incorporated navy blue ribbon, but that was the extent of their input.  Enter Beth and her brilliance!  She suggested this geometric design of overlapping squares, reminiscent (to me, anyway) of a Chippendale motif.  And though she was prepared for the couple not to love the idea…they did!  Two of the original four layers became a double height central tier, which was perfect for the strong geometric design.  Ruffly white sugar roses were added to soften the look, and voila!  A star is born!
We've featured a few of Beth's beautiful cakes, like this incredible Gothic Roses and Birdcage Wedding Cake, as well as this Nautical Love Wedding Cake.  Be sure to check out Beth's website for more of her incredible creations!
Read More:
Blue Wedding Cakes
,
double height tiered wedding cakes
,
manchester wedding cakes
,
navy blue wedding cakes
,
ruffled roses wedding cakes
,
sophisticated wedding cakes
,
UK wedding cakes
,
white wedding cakes