0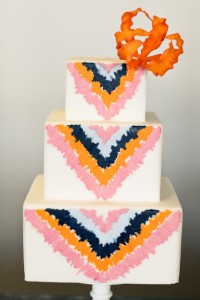 There is nothing simple or old fashioned about this modern and very colorful wedding cake.
And I think I kinda like that.
Sure, I'm normally a traditionalist when it comes to wedding cakes but there's something unique about this cake.
In order for this cake to "work" at your reception you'll need to have a modern color scheme and a modern vibe to the reception.
This cake won't fit in if you're looking to keep the theme of your reception simple and classic.
I think what I love about this cake is that even though it features orange, blue, and pink you could mix up the color scheme if you really want to and make it match your favorite colors. Or even mix it up to match the colors in your bouquet.
This cake would be lovely with bright pastel colors or even deep fall-inspired colors.
You can find this watercolor cake here. It was created by Sweet & Saucy Shop.
Read More:
Blue Wedding Cakes
,
bright colored wedding cakes
,
bright colors
,
modern wedding cake
,
orange wedding cakes
,
simple wedding cakes