0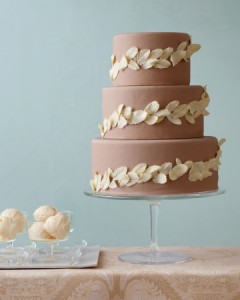 There must be something in the air this week as I'm still slightly obsessing over all things fall.
And while this cake would look great at any time of year – but would look amazing in the fall – I had to share it with you.
I found this cake while searching "DIY decorations" and perhaps a DIY wedding is not in the cards for you. However, I'm sure your baker could create some lovely leaves to wrap around your wedding cake.
What I love most about this cake – other than the chocolate frosting – is the simplicity of it. There's nothing over-the-top about this cake.
Just a few simple tiers and some gorgeous frosting adorned with edible white chocolate leaves.There are so many possibilities with this design – you could do a white frosted cake with green leaves for spring, or even red flower petals in the winter.
But this chocolate and white beauty would be stunning at a fall wedding. And if you're brave enough to DIY, best of luck!
I found this leafy wonder here.
Read More:
autumn cakes
,
autumn color wedding cakes
,
autumn leaves wedding cakes
,
chocolate leaves
,
chocolate wedding cakes
,
fall leaves
,
fall themed wedding cakes
,
fall wedding cakes
,
leaf cake decorations. edible fall leaves
,
White Chocolate
,
white chocolate leaves