0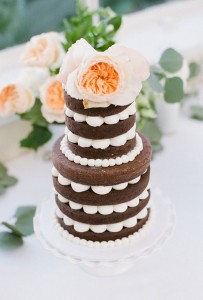 It's that time of year when I think about chocolate – a lot.
I love the holiday season for all the sweet treats that are available and if they're chocolate, that makes it even better!
Which brings me to today's featured cake. It's a naked chocolate cake but what stood out most for me was the scalloped icing.
While we know I'm not a huge fan of cakes without icing if you're going to serve a naked wedding cake it might as well look gorgeous too.
And the scalloped icing makes this cake elegant and very pretty! While the cake would look nice with icing in between the tiers the scallop design really pops.
It just adds a glamorous look to the cake. Add a bright red flower to the top and you'll have a practically perfect wedding cake.
You can find this cake here. It was created by Enjoy Cupcakes.
Read More:
chocolate wedding cakes
,
naked wedding cakes
,
scalloped icinig
,
winter wedding cakes