0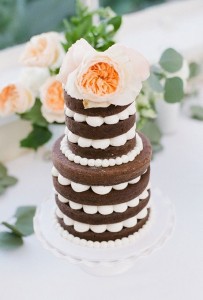 Happy New Year! As we head right into 2017, now is a perfect time to make a resolution to have a spectacular and unique wedding cake on your big day.
Take today's cake.
It's chocolate. And it's a naked cake. But look at the scalloped icing between the tiers. Good gravy that's gorgeous!
The cake is just two tiers, but they're arranged in a way to make the cake look much bigger. The scalloped icing between each layer adds the perfect touch of elegance to the cake.
And it's so pretty that you need just one oversized fresh bloom to adorn the top of the cake.
You should resolve to serve a cake this lovely at your reception this year.
You'll find this cake here. It was created by Enjoy Cupcakes.
Read More:
chocolate wedding cake
,
elegant wedding cake
,
modern wedding cake
,
naked wedding cake