0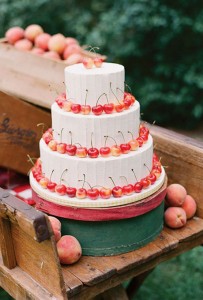 Sometimes it's nice to find a simple yet elegant wedding cake that would be perfect in any season.
Today's cake is just that kind of cake.
I love the simplicity of the three-tiered cake adorned with Rainier cherries.
It isn't fussy or over-the-top. It's just pretty. And sometimes that's all you need for a perfect wedding cake.
This cake would be lovely in the spring, summer, or fall. The Rainier cherries are lovely but imagine how stunning the cake would be with dark red Bing cherries. That would be perfect for a winter wedding cake.
Of course you could probably adorn the cake with other fruits too – blackberries, blueberries, or even strawberries for a summer wedding.
Sometimes it's worth it to just keep it simple and beautiful.
You can find this cake here.
Read More:
fruit on wedding cake
,
simple wedding cakes
,
spring wedding cakes
,
summer wedding cakes
,
wedding cakes with fruit
,
white cake with cherries
,
white wedding cakes
,
winter wedding cakes