0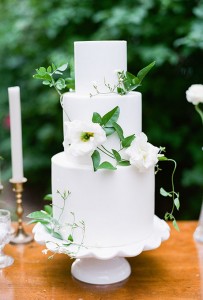 I love an over-the-top, non-traditional wedding cake just as much as the next non-traditionalist. But I also love simple wedding cakes that are both elegant and gorgeous.
Take today's wedding cake as an example.
There isn't a lot going on with the cake but that's what makes it special. The 'wow' factor is in the cake's simplicity.
A stark white tiered cake topped with fresh white blooms. It's simple and beautiful and makes a statement by not being over-the-top.
This cake would work in every season and if simple elegance is the goal for your wedding reception this is definitely the cake for you.
If you're looking to up the wow factor a bit you could always add a pop of color with a bright flower instead of the white, but the fresh greenery is enough for me.
You'll find this cake here. It was created by Earth and Sugar.
Read More:
elegant wedding cakes
,
fresh flowers on cakes
,
white cakes with white flowers
,
white flowers on wedding cakes
,
white wedding cakes