0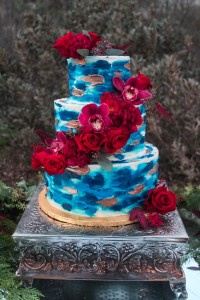 Today's featured cake is one of those "wow!" cakes. As in, I said "wow!" as soon as I saw it.
If that's not a showstopper, I don't know what is.
This cake is almost over-the-top. It's just teetering on the edge of "too much" but as a whole, it just works.
The three-tier cake features a very vibrant blue buttercream icing (which I loooove) that almost looks like waves on the ocean.
Add in a few strokes of silvery-gray icing (those look like fish, right?) and some bright red cascading flowers and you have the WOW factor.
This cake would have to be the centerpiece at a very unique wedding. You can't have this cake at some ho-hum destination, it's that memorable.
Personally  I think this cake would be perfect for a Fourth of July reception!
You'll find this cake here. It was created by Sweet Art Bake Shop.
Read More:
and blue cakes
,
blue cakes with fresh flowers
,
Blue Wedding Cakes
,
red
,
red flowers on cakes
,
spring wedding cake
,
summer wedding cake
,
white