white flowers on wedding cakes
0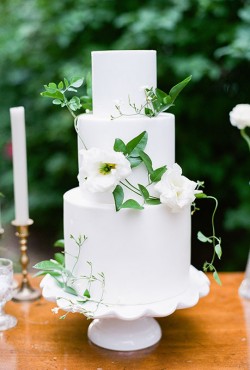 I love an over-the-top, non-traditional wedding cake just as much as the next non-traditionalist. But I also love simple wedding cakes that are both elegant and gorgeous.
Take today's wedding cake as an example.
There isn't a lot going on with the cake but that's what makes it special. The 'wow' factor is in the cake's simplicity.
A stark white tiered cake topped with fresh white blooms. It's simple and beautiful and makes a statement by not being over-the-top. Read More
0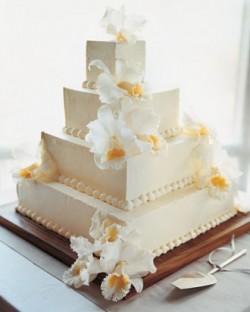 Things are still all a bloom around here thanks to a nice combination of April showers and warm, sunny days.
Which means I'm still looking for wedding cakes adorned with fresh flowers because they're absolutely perfect for spring weddings.
This four-tier square wedding cake is elegant and simple and has a fresh feel about it.
The square tiers give the cake a modern feel, while the pearl icing embellishments add just the right amount of elegance.
And you can't go wrong with fresh cattleyas for a floral addition.
Of course if you aren't a fan of that flower you can always adorn your cake with a flower that matches your bouquet – giving your wedding cake an extra personal touch.
You can find this spring floral wedding cake here.