0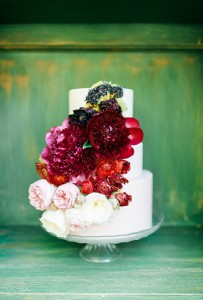 I'm a big fan of fresh flowers on wedding cakes.
My own wedding cake was adorned with bunches of Black Magic roses and those dark red blooms made the white cake really pop!
Today cake goes floral in a really big way!
The three tier cake is almost taken over by bright flowers, but oddly enough it works without being "too much."
I love the rainbow-like color combination of the flowers – reds, pinks, and purples. This cake and flower combination would be lovely any time of year.
And if you wanted different flowers – or just one kind of flower – that would be equally as lovely.
You'll find this cake here. It was created by Earth and Sugar.
Read More:
elegant wedding cakes
,
floral wedding cakes
,
flowers on cake
,
fresh flowers on cakes