0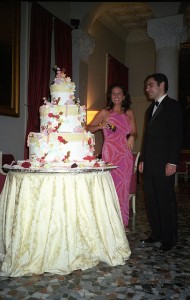 To begin…a couple of points about this cake.
So…I don't normally feature pictures that are obviously snapshots.  And I don't normally feature pictures that have people in them.  But I searched and searched for a not snapshot-y, non-peopled picture of this cake, and couldn't find one.  And this cake?  Must Be Featured.
Just look at it!  I have never, in all my days on this earth (and I won't tell you how many of those there are) seen a cake of this scale.  In it's own way, it's bigger than Duke and Duchess of Cambridge's cake, and that one was pretty large.  But the depth of the layer on this cake are truly astounding.  Really, I would love to see how in the world they sliced it.
Moving on from the cake's gargantuan scale, the cake is quite pretty.  Decorated with sugar flowers, and what I believe to be marzipan and buttercream, the background is nice and traditional, with pretty pops of color from the trim and flowers.  And the band of beige on each layer is a nice contrast.
What do you think of this cake?  To me, it appears to be something right out of Fantasyland.
Read More:
huge wedding cakes
,
italian wedding cakes
,
Large wedding cakes
,
marzipan wedding cakes
,
unusual wedding cakes