0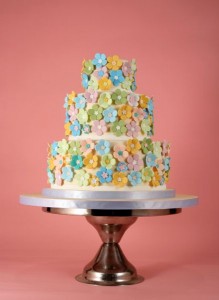 I absolutely love daisies – they're such a cheerful flower! And as soon as I saw this cake, I fell in love with it because it's so cute and whimsical.
This cake would be perfect for a spring or summer wedding, especially if your color palette included pastels. I love that the flowers aren't just light pinks and purples, but also include the bright yellow, green, and blue. Those really makes the cake pop with color.
Imagine how amazing this cake would look at an outdoor wedding! And since daisies are the world's happiest flowers, you can't help but smile when you see it.
This cake was created by Charm City Cakes West. Check them out here.
Read More:
blue flower wedding cakes
,
colorful wedding cakes
,
colorful wedding flowers
,
daisy wedding cakes
,
floral wedding cake
,
flower wedding cakes
,
fondant flowers
,
green flower wedding cakes
,
Pink wedding cakes
,
spring wedding cakes
,
summer wedding cakes