wine wedding favors
0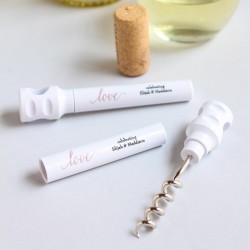 I'm always looking for a corkscrew at my house.
It's one of those items that you really, really need to have on hand.
And if you like to enjoy a glass of vino while you're traveling, you'll want a good travel corkscrew, right? (Actually I hadn't ever thought of this until today). Read More
0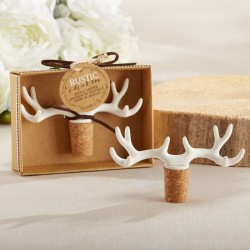 On Dasher, on Dancer, on Prancer and Vixen! On Comet, on Cupid, on Donner and Blitzen!
Since we are just days away from Christmas it seemed fitting to showcase a fun wedding favor with a holiday theme.
That fun favor would be these Antler Bottle Stoppers. (No reindeer were harmed to make these stoppers. Promise.) Read More
0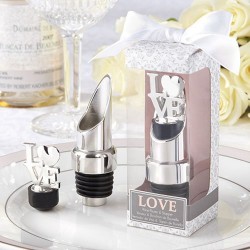 If there's one thing you're definitely celebrating on your big day, it's LOVE!
So it only makes sense to find a fun and functional wedding favor that is all about l-o-v-e!
This chrome bottle pourer and opener combo is that perfect gift. It's fun, functional, and everyone needs a bottle stop in their bar or kitchen. Read More