gold leaves on wedding cakes
0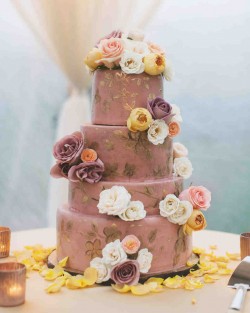 Purple is my absolute favorite color. It's the color of royalty and it's my birthstone.
And had I given it much thought, I would have added purple to my wedding color scheme all those years ago. Like, maybe by having a purple wedding cake.
Just like today's featured cake.
This lovely, muted purple cake is stunning. Read More
0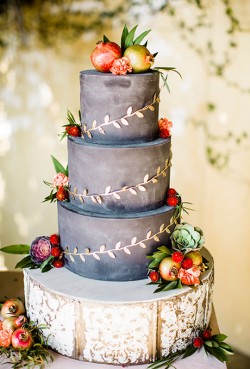 OK so maybe you haven't given much thought to a gray wedding cake – after all gray is usually synonymous with dreary things.
But it can actually be a stunning color on your cake when it's done the right way.
This three-tier cake isn't drab or depressing – the charcoal gray icing is dark and elegant and set off by colorful fruit, succulents, and gold leaves.
As much as I'm a fan of traditional wedding cakes when I see cakes that showcase 'thinking outside the cake box' design it's exciting. And this charcoal gray cake is a new favorite. Read More