0
Posted on January 1, 2014 by Traci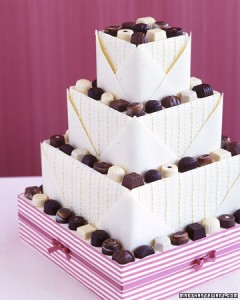 One of the most famous movie lines of all time is "life is like a box of chocolates" and now you can have a wedding cake that is just like a box of chocolates.
Check out this incredible – and rather unique – cake that features a sampler of chocolates on each tier. That's right – this cake is your very own chocolate sampler box!
Who wouldn't love this cake?
The cake was made to resemble a box of chocolates – it sits on a ribbon-trimmed board and the icing on the cake was even piped to mimic a box of chocolates.
Imagine how creative you could get with this cake. You could use your favorite chocolates, or get real fancy and order handmade chocolates. Either way, your guests are going to love the extra special treat with this wedding cake.
I found this fun and delicious wedding cake here.
Other Posts You May Enjoy:
Read More:
candy covered cakes
,
candy inspired cake
,
candy trimmed wedding cakes
,
chocolate candy
,
chocolate candy wedding cakes
,
chocolate cookie recipe
,
square wedding cakes
Recent Posts