0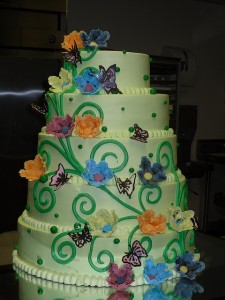 I have to admit that on days when it doesn't get past 50 degrees in South Carolina and I haven't seen then the sun in about five days..I get a little feisty.
I think I may of mentioned how I feel about January once before. Only instead of dreaming of Fall today I am dreaming of Spring..and this cake does it for me!
This Spring Themed Wedding Cake is covered in fondant flowers with hand painted details and chocolate butterflies. Yum yum! Just looking at those butterflies makes me want to eat them all in one sitting. I can say that here in January when I am covered in head to toe wool. Spring would not like me to eat all those chocolate butterflies..oh no! The light green color just screams Spring. I almost expect the Easter Bunny to hop right out of this one!
Until then I'll just stare at my flip flops lovingly and wait for Spring to show its head.

Photo Source
Read More:
butterfly wedding cakes
,
chocolate butterflies
,
fondant flowers
,
Green Wedding Cakes
,
spring wedding cakes