0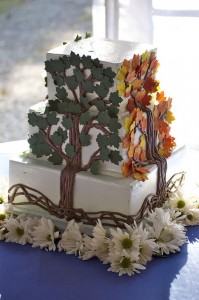 Including cakes! I have to admit when I saw this cake from a distance I wasn't exactly sure what was going on.
Then with closer inspection I realized that this is a basic three tiered square cake. Only this cake was a little different! On each side there is a tree and each tree represents a different season. It's the weather cycle at its best folks. Now, this isn't something that could just be slapped on a cake and called it a day. You have to make it look classy & that's exactly what they did. The "spring" tree has beautiful buds, the summer tree has bright and full green leaves, the autumn side has gorgeous red and orange leaves (oh fall) and the winter shows beautiful snow covered branches. The backdrop is a gorgeous sky blue icing..yum yum!
Now this is the kind of Science I can support..the edible kind!
Visit qwrrty's Flikr PhotoStream to see the other sides of the cake!
Read More:
light blue wedding cake
,
science themed wedding cakes
,
season themed wedding cake
,
seasons wedding cakes