0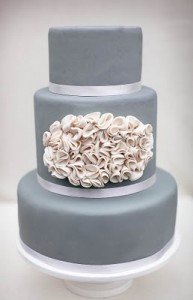 We're ranging far and wide this week to bring you the latest and greatest in all things sweet to eat – and otherwise – about weddings.
They announced their engagement on Twitter and Facebook.  This week, Kate and William fax their Save the Dates.  Embracing technology in the name of saving trees and postage?  You decide.
Congratulations to Chrissie Boon of Ontario's Too Nice To Slice Cake Studio  for winning the Bride's Choice Award this week from Wedding Wire!  This puts Chrissie in top 5 percent of wedding pros nationwide!  Great Job!
That wonderfully unique boutique Anthropologie is launching a wedding brand on Valentine's Day!  Sign up for the BHLDN mailing list to learn more.
Love super cute Natalie Portman's gorgeous new engagement ring?  BrideFinds gives us the story behind it – from who designed it to details about the conflict-free diamonds and recycled platinum.  Find out how to get the look, whether you plan to spend $80 or $8000.
Erica O'Brien of SoCal's Erica O'Brien Cake Design draws inspiration from the everyday.  Check out the gorgeous ruffled cake inspired by – what else? – a pillow on Etsy.  Fabulous!
Did someone say buttercream?  We love the icing artistry we see on the cakes of Mason's Bakery in Fort Myers, Florida! 
Photo courtesy of Erica O'Brien Cake Design.  Photographed by Ashleigh Taylor Photography.
Have a delicious week!
Read More:
Anthropologie
,
awards
,
BHLDN
,
BrideFinds
,
Chrissie Boon
,
conflict-free diamond
,
Erica O'Brien Cake Design
,
green jewelry
,
Kate and Williams
,
Mason's Bakery
,
Natalie Portman
,
Natalie Portman engagement ring
,
recycled platinum
,
Save the date
,
Too Nice to Slice
,
Urban Outfitters
,
Valentine's Day
,
Wedding Wire