cakes confidental
0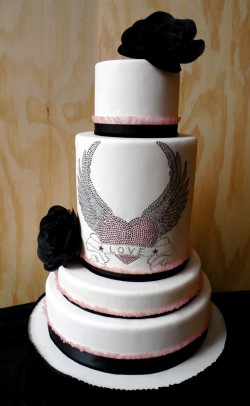 Do you remember the not-so-long ago season of The Bachelor featuring Jake Pavelka? You know..that awfully good old boy from Texas who swooned us all with his "yes ma'ams", dashing good looks and a killer smile? I remember this because I spent the entire season SCREAMING at the television because homeboy made all the wrong choices when it came to women and the ended up picking, like, the WORST woman in the house.
Then come to find out less than a year later it's actually Read More
0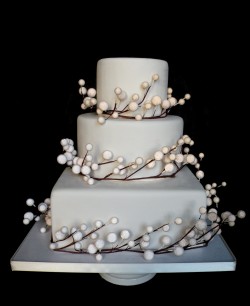 You all know how much I think of Winter (i.e. not much)….but one thing I love is a winter wedding. Snowflakes, glitter, silver and beautiful berries…my heart runneth over.
When I saw this cake I envisioned a lovely bride in Snow White gown, a fur stole and elbow length gloves. The bottom layer is a square shape and the top two tiers are round. I love the mix of the two shapes..it adds a bit of modern flare. Around the base are gorgeous Pearlized Snow Berries. It looks good enough to eat.
Oh but wait..you can't..because Read More