0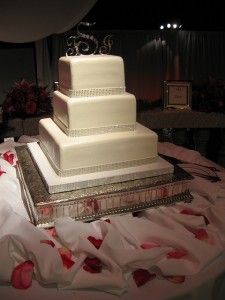 Nine days out of ten, you'll find me reaching for my pearls.  And on day ten, you ask?  Well, diamonds are a girl's best friend, after all.
Isn't this divine?  A cake…that sparkles.  Well, of course!
The combination of bling with the simple, uniform lines of the square tiers, stacked one on top of another, speak to a "just right" touch here.  Flowers, or piping, or color even would just detract.  But the rhinestone detail on each layer, coupled with the cool silver tone of the antique cake stand and the classic and cuter than cute script monogram on top.  Perfection.  Not too much.  Not too little.  Just right.
Read More:
cakes with jewelry
,
Monogrammed cakes
,
rhinestone wedding cakes
,
simple cakes
,
sparkle
,
square cakes