2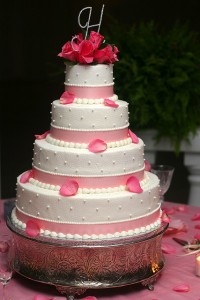 ..and I am not talking about Molly Ringwald and her pal Duckie (you know..that guy from Two and a Half Men..oh Charlie Sheen..what have you done?  That's another rant for another day)..
After a week of posts about Fruit Cakes, Cake Parties and Jello Wedding Cakes and I ending this week of non-tradition with just the opposite. A cake that screams wedding. Strike that..a gorgeous cake that screams wedding.
This four tiered round cake is a fondant creation with gorgeous piping and imprinting on the fondant. The thick pink bow gives it a little bit of color and height. It sits atop a beautiful pewter cake stand and is adorned with just the right amount of pink roses and rose petals. Then to top off all the luxury and gorgeousness that is this cake..the diamond encrusted cake topper adds a nice finishing touch.
I feel fancy just looking at it.
Read More:
cakes with pink roses
,
diamond cake toppers
,
fondant wedding cakes
,
letter cake toppers
,
Pink wedding cakes
,
round cakes