pink and green cakes
0
I'm all about thinking spring right now!
Sure it's been a mild winter here in the Midwest but with a potential snowstorm in tonight's forecast I've decided that I'm done with winter and just want to focus on spring.
And spring means all things green! It's the one time of year that I really, really like the color green.
Green grass. Green leaves. Shamrock Shakes. You know, all things spring. Read More
0
Hello pink and green! Calling all sorority girls and Lilly Pulitzer fans…today's featured cake is inspired by the designs of Lilly Pulitzer. For those of you who aren't familiar with Lilly Pulitzer think bright colors, fun beachy patterns, and all around girly-ness!
I love this cake for SO many reasons BUT we shall start with the bright colors! I love love LOVE! pink and green together (I know that trend is considered "out"…but bear with me) because the colors are so happy and vibrant…and they make me smile. And speaking of things I love…I love how the cake designer chose a different pattern for each tier. The design incorporates Read More
0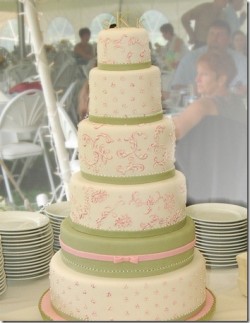 Happy Easter, Everyone!  On this most spring-y of days, we're excited to look around and see all the beauty that is popping up everywhere.  As we shed our winter coats for sun dresses, and trade in those fashionable boots for comfy flip flops, we're excited to see what will be new for spring and summer in the world of Read More