2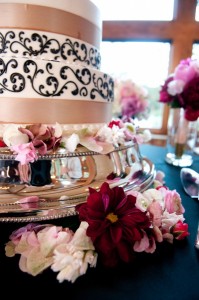 Ah, post vacation blues.  Don't you feel sorry for me?  Well, you should.  Here I sit, tanned and rested, with lots of pretty pictures (and not a few shopping bags.)  With a trip behind me, and not so much as a weekend getaway planned before me.  Sulk.  Sulk.  Sulk.
BUT – I do have friends coming – my very best friend, in fact.  I have visits to plan for, and new recipes to try – and, oh yes…I live 45 minutes from the beach.
Um, k.  Sulking over.
I do need to be honest with you, though.  I didn't think a whole lot about weddings during my week in paradise, so this round up might be a little on the short side.  We shall see…  So let's start with The News, and go from there.
Actors Daniel Craig and Rachel Weisz shocked the world with their surprise marriage on June 24, only six months after they took their relationship public.  Today, we're getting one of our first glimpses of the couple post-wedding.
Daring Zara Phillips, granddaughter to Queen Elizabeth and the next royal in line for a splashy wedding, chooses a wedding dress designer that Gran will love:  royal courturier Stewart Parvin.
Most people in Atlanta are ecstatic that Music Midtown is making a comeback – except this couple, who were planning to get married the same day in Piedmont Park.  Now, it seems Coldplay might be the reception hall band.
Are you a bride in Charleston, South Carolina, set to marry your guy in uniform?  Then you'll want to know about this boutique, which is giving away gowns to military brides.
And now, for The Sweet and Pretty:
I just love this beautiful cake by Sweet Cakes by Rebecca.  Do you think that Fiona Cairns got the design idea of for the royal wedding from this cake?  Me too.
Ashley from Wedding 101 gives us her Top Wedding Day Beauty Pics.  I'm heading out to shop right now.  I mean, these are great tips.  And why only look good on your wedding, right?
A beautiful wedding, thanks to 100 Layer Cake:  Heidi and Alex and their romantic country wedding.
Love mini wedding cakes?  We do, too! Check out these DIY jobbies, via Austin Wedding Blog, thanks to an adorable cake pan!
Uber practical and awesome post by our friend, photographer Matt Brodie, on the Top Five Things You Won't Think About When Choosing a Church for your wedding.
Offbeat Bride gives us an 80s-inspired cake that is a-dor-a-ble.  Seriously.  Scroll, people.  You do NOT want to miss this.
Have a delicious week!
Read More:
80s inpired cakes
,
Atlanta
,
Charleston South Carolina
,
Coldplay
,
daniel craig
,
diy wedding cakes
,
military brides
,
military brides dress giveaway
,
mini wedding cakes
,
Music Midtown
,
Queen Elizabeth II
,
rachel weisz
,
stewart parvin
,
wedding makeup
,
zara phillips