2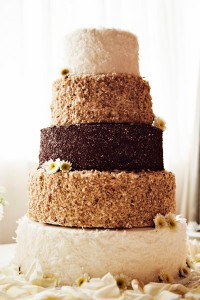 Don't you just want to grab a cup of coffee or a glass of ice cold milk and dig right into this baby?
Lots of cakes that we feature are all about the looks.  And so often, I almost can't imagine cutting into them because of the hours and hours of work they took to make.  But this cake invites you to get comfortable and cut a big ole' slab!
If I had to guess (and I do, since I know not who made the cake or what the flavors are) I would say that we have here layers of rich coconut cake, perhaps a carrot cake, and some type of lovely chocolate cake.  This is like an homage to the best bake sale EVER.  Garnished with a light hand and just a few daisies, this sumptuous creation would be perfect for a low key backyard, barn, or meadow wedding.
Heck, I'm thinking of making it for my next birthday!
If you know the baker, please share.  Do you love this cake?  Let us know in comments below!
Read More:
backyard wedding cakes
,
bake sale wedding cakes
,
brown wedding cakes
,
carrot cake wedding cakes
,
chocolate wedding cakes
,
coconut wedding cakes
,
Rustic Wedding Cakes