0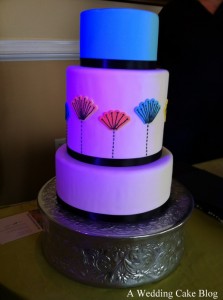 Happy Bridal Show Season!
Most of y'all who are reading us know this, but for those who don't…this isn't exactly the hottest time of the year for the wedding industry.  So, in a creative attempt to keep themselves busy, many vendors get together during the winter months and have bridal shows, so that prospective brides and grooms can meet vendors, learn about trends, and maybe even win a cool prize or two.
Last November (where does the time GOOOO?), I attended the Downtown Disney Resort Area Hotel's Bridal Stroll.  What a neat event!  We saw all the newest and greatest in the arena of Central Florida weddings, and we sampled delicious foods along the way.  We also were treated to lots of floral arrangements and linen displays, as well as some of the coolest lighting I've ever seen.  If you aren't familiar with the Walt Disney World Resort Area, this strip of hotels has been around since the earlier days of the resort.  And while they are located within the main gate of Disney, they are not actually Disney Hotels.  Still, they offer some beautiful vistas and great perks, owing to their awesome location.  They would be a great option for the bride and groom who would like to be close to the magic, but not smack dab in the middle of it.
Over the next couple of months, I'll be sharing here and there some of the bakers and other vendors I met through the Bridal Stroll.  Today, we offer you a glimpse of Kibi's Sweets, a bakery here in Orlando.  We loved their stylized, minimalist "something blue" cake when we saw it at one of the Bridal Stroll stops.  Perched high above the ground on the resort's 20th floor, we walked into a full fledged 80's party! Complete with amazing 80's music, disco lighting, hors d'oeuvres, and this cake!  The baker utilized some of the hot trends that we're seeing right now.  First, that uber popular double height middle layer.  Secondly – and this is one we're seeing for this year – the lack of frills and furbelows…in other words, clean and minimal, with touches, like stylized two-dimensional fondant flowers, and fondant that is tinted blue, to set it apart.  We love it!
Find Kibi's Sweets on Facebook, and check out their other lovely creations!
Read More:
80s weddings
,
blue and white wedding cakes
,
Blue Wedding Cakes
,
bridal shows
,
bridal stroll
,
central florida bakeries
,
double height tiered wedding cakes
,
double height tiers
,
florida weddings
,
fondant wedding cakes
,
minimalist wedding cakes