0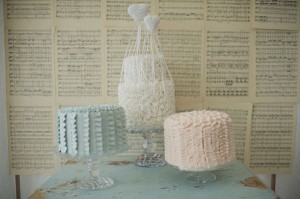 There are just so many things that are right about this picture that they had to be a part of Ruffle Week 2011.
Let's start with the three gorgeous ruffle cakes.  One in perhaps the lightest pink that I have ever seen.  The next in a gorgeous light blue.  The third (and best) cake is a two-tiered white cake with rosettes (not technically ruffles but oh well).  They are set on a gorgeous vintage blue table behind a wall of book pages.
Can you get any more vintagey/romantical/whimsy than that?
No.  You can't.  If you can please send pictures to christen at aweddingcakeblog dot com.  Gracias.
Check out the entire photo album of this gorgeous wedding on Style Me Pretty.
Read More:
Blue Wedding Cakes
,
multiple wedding cakes
,
old fashioned wedding cakes
,
Pink wedding cakes
,
rosette wedding cakes
,
ruffle wedding cakes
,
small wedding cakes
,
Sweets Tables
,
vintage wedding cakes
,
white wedding cakes