lemon flavored wedding cakes
0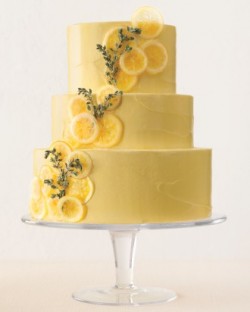 One of my all-time favorite summer flavors is lemon.
Whether it's lemonade or lemon meringue pie, you can't go wrong with lemon in summer.
Plus, their bright yellow color make everything more cheerful.
Perhaps this is why I'm loving this bright yellow lemon and thyme wedding cake.
The cake is a lemon-thyme base and in between the tiers are alternate layers of lemon curd and vanilla buttercream – two flavors that pair deliciously. Read More
0

Oh yes. We are going there. I was recently having a conversation with a friend of mine about this blog. He was asking me what the point of blogging about cake was. He didn't get it.
I had to explain that a wedding cake isn't just something you see, it's something you taste. If you go to a wedding and their cake is disgusting, you remember. If you go to a wedding and their cake is awesome, you remember. There have been more times than I'd like to count that I take a look at a gorgeous wedding cake and I cannot wait to dive in. Then after about six hours of dancing we FINALLY get to the cake cutting hoopla and I finally get my piece. (Because, of course, their wedding is ALL about me right?) Then after much anticipation…the cake sucks.
Have no fear though, because times they are a changing. Cake bakers are becoming more and Read More