autumn color wedding cakes
0
There must be something in the air this week as I'm still slightly obsessing over all things fall.
And while this cake would look great at any time of year – but would look amazing in the fall – I had to share it with you.
I found this cake while searching "DIY decorations" and perhaps a DIY wedding is not in the cards for you. However, I'm sure your baker could create some lovely leaves to wrap around your wedding cake. Read More
0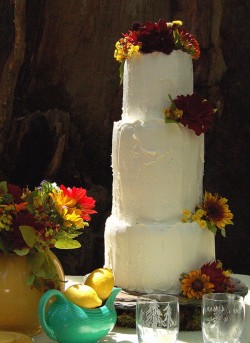 I love me some fall.
Sure, most of the time (read: last week), you'll find me prattling on about the beach and beachy fun.  But truth be told, autumn is my favorite time of the year.  And you don't get so much autumn in Florida, until, oh, around January.
So about this time of the year, I start manufacturing autumn in my head.  And I do that by baking with pumpkin and apple, and looking at fall-y things.  This cake is just such Read More