4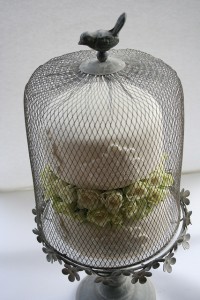 I'm all kinds of in love with Victoria Made. I knew it after we featured this cake and then this one. She is a goddess of gorgeous vintage style cakes.
This is a gorgeous separated two tier wedding cake with vintage inspired white roses between the two tiers. The cakes are covered in smooth white fondant and have a gorgeous fondant floral design on the sides. You have to admit that the first place your eyes fall when you look at the picture is on the gorgeous vintage birdcage stand. Who knew putting a birdcage over a wedding cake could take it from gorgeous to holy freaking amazing. It's a great way to take a traditional cake and add a little bit of flare. I am sure this cake was a centerpiece at the wedding.
I'll admit the birdcage look probably isn't for everyone. What do you think?
Read More:
birdcage wedding cakes
,
floral wedding cakes
,
fondant wedding cakes
,
victoria made wedding cakes
,
vintage wedding cakes
,
white roses wedding cakes
,
white wedding cakes