0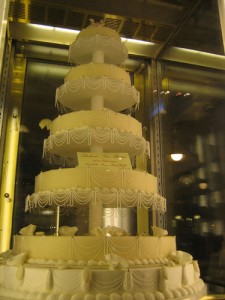 Oh hi, guess what?  It's our 300th post!  No big deal right?
Big deal to me!  Granted I know I haven't written all 300 of them myself…we've got to give a big shout out to Brooke who takes the weekend shift and creates a great round up…(not to mention fixing all of my grammatical errors)…but to me it's still a pretty big deal.  Basically because I never got past January 13th in my diaries that I swore I'd write in every day on December 31st.
Much like the fact that this is our 300th post, this cake is a BIG deal.  I mean literally.  Check it out.  It's HUGE.  It's a five-tier cake which makes it gigantic by normal cake standards but then the tiers are actually separated, adding a good four feet of height to this bad boy.  Also, it's a big deal because it's from Harrod's.  What is Harrod's you ask?  Well here you go.  It's a pretty big deal as well.  Or, at least when you're 16 and going to England for the first time with your high school and everyone is talking about how AWESOME Harrod's is so you go and you buy a hair dryer because it has a fancy plug and then you find out later that you a) can't use it in America and b) just spent $100 on a hair dryer because EVERYTHING is overpriced and you don't quiet understand that whole "pounds to dollars" conversion…you might think it was a big deal.  Longest run on sentence…ever.  (Also, this may…or may not be a true story about yours truly).
Anyway, back to the cake.  It's gorgeous, tall, covered in cream fondant, and decorated to the nines.  And, it's a big deal.  I hope you keep reading for the next 300 posts.
Read More:
british wedding cakes
,
cream wedding cakes
,
fondant
,
grand wedding cakes
,
harrods
,
harrods cakes
,
harrods wedding cakes
,
separated wedding cakes
,
tall wedding cakes
,
traditional wedding cakes
,
white wedding cakes