grand wedding cakes
0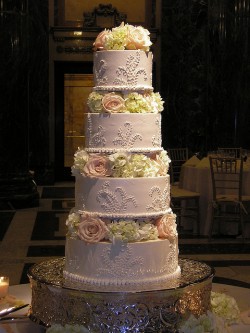 Pretty spectacular, eh?
I'm sure there is a prince or princess floating around this reception somewhere.  Or at least a socialite.
I love when white on white is done right.  The detail of the piping, which features a fern motif, is heavy enough to capture the lights and shadows, which really makes it stand out.  The flower garnish, made up of pale hydrangeas and pink roses, fills in the spaces perfectly, giving the cake a cohesive look.  This cake is kind of old fashioned, in that it's not stacked (and we predict a swing back Read More
0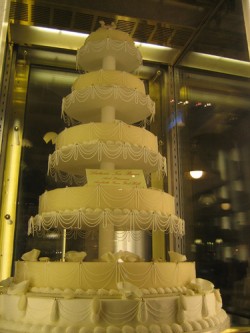 Oh hi, guess what?  It's our 300th post!  No big deal right?
Big deal to me!  Granted I know I haven't written all 300 of them myself…we've got to give a big shout out to Brooke who takes the weekend shift and creates a great round up…(not to mention fixing all of my grammatical errors)…but to me it's still a pretty big deal.  Basically because I never got past January 13th in my diaries that I swore I'd write in every day on December 31st.
Much like the fact that this is our 300th post, this cake is a BIG deal.  I mean literally.  Check it out.  It's HUGE.  It's a five-tier Read More