0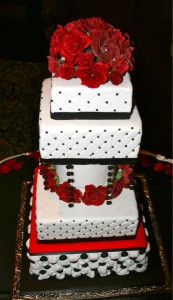 The cake I'm featuring today demands your attention.
This is no shy, shrinking violet of a wedding cake.  No demure, "Oh, look how sweet and innocent I am.  Really, just a place in the corner for me."  No sirree bobby.  This cake declares itself the grande dame of wedding cakes, and expects you to perk up and notice – and use your best posture – when you walk into the reception.
Or is it just me?  You know, attributing personalities to cakes?
At any rate, this cake by Shawna of Flourish Cakes  (follow her on Twitter here) in Courtice, Ontario, is the kind of cake that is truly a centerpiece for the wedding celebration.  After consulting with the bride, who had a few ideas about her cake, but wasn't married to any of them, the two decided that Shawna would come up with an original design, which incorporated elements from the wedding and ideas from the bride.  In the end, Shawna created this four-tiered, square, regal beauty.  See those roses?  You think they're fresh flowers, don't you?  Because I totally did.  In fact, they're gumpaste, and took more than 100 hours to craft.  Shawna relates that her hard work paid off when the florist didn't believe they weren't real.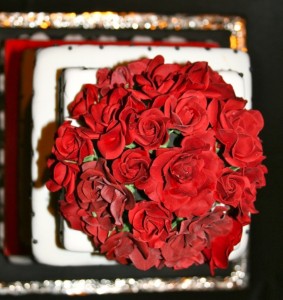 As for the other details of the cake…the four tiers are decorated with sugar beads, the couple's monogram (inspired by their invitation), and a billowing technique on the bottom tier, which was perfected by Susan Trianos (for another example of this amazing cake-as-fabric technique, check out this photo.) 
And…as if beauty weren't enough, the flavors – oh, the flavors – of this spectacular cake, from bottom to top, were chocolate cake with French hazelnut buttercream; vanilla bean with lemon curd filling; vanilla bean with dulce de leche filling; and gluten free chocolate cake with Swiss meringue buttercream.
I don't know about you, but I'm seriously considering crashing a wedding in Ontario in the very near future, in hopes that I run into one of Shawna's spectacular cakes.
Read More:
billowing technique
,
Black Wedding Cakes
,
courtice ontario
,
dramatic wedding cakes
,
gumpaste roses
,
monogrammed wedding cakes
,
ontario bakers
,
red and black wedding cakes
,
red wedding cakes
,
roses wedding cakes
,
sugar beads
,
susan trianos