red and black wedding cakes
0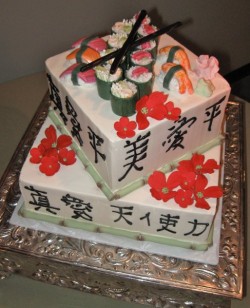 Time for another fabulous themed cake. This one falls in the "juxtaposition of things that definitely don't remind you of cake, but it's so pretty you can't help yourself" category.
I think this cake is absolutely beautiful. The Japanese characters are flawless, and the gumpaste flowers are incredibly lifelike. But the star of the show is the assortment of gumpaste sushi that adorns the top of the cake.
Wrapped in Read More
0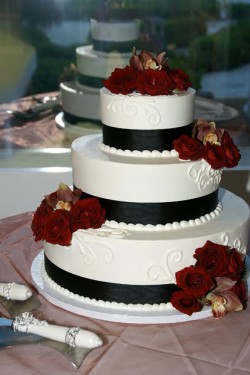 Well, by now you know that we are all about the seasons around here.  But sometimes it's nice to see an expression of seasons in a way that isn't so typical.  Take autumn, for instance.  You think autumn wedding cake, your mind automatically goes to colored leaves.  But here's another take on the colors of fall:  rich red roses.
It was love at first sight when I saw this cake.  The simple buttercream finish is trimmed with a wide, black ribbon, elegant scrollwork, and the most beautiful deep red roses.  For an interesting contrast, the roses are paired with orchids.  You would never think, "I know, I'll put orchids and roses Read More
0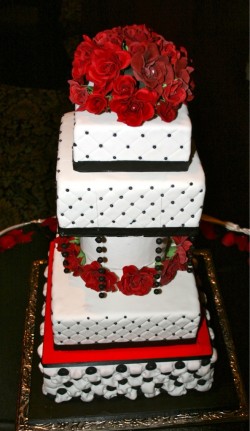 The cake I'm featuring today demands your attention.
This is no shy, shrinking violet of a wedding cake.  No demure, "Oh, look how sweet and innocent I am.  Really, just a place in the corner for me."  No sirree bobby.  This cake declares itself the grande dame of wedding cakes, and expects you to perk up and notice – and use your best posture – when you walk into the reception.
Or is it just me?  You know, attributing personalities to cakes?
At any rate, this cake by Shawna of Flourish Cakes  (follow her on Twitter here) in Courtice, Ontario, is the kind of cake that is truly a centerpiece Read More