2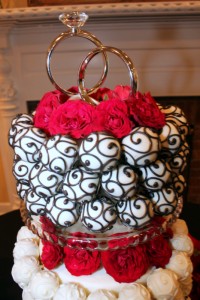 My name is Brooke, and I love cake pops.  (Hi Brooke.)
Omistars…I feel certain that cake pops were some kind of happy accident, or were the obvious invention of thrifty cake bakers who couldn't imagine throwing out all those cake scraps (we used to make rumballs out of all those yummy leftovers.)  Dress them up, put them on a stick, and you have the perfect two bite dessert!
But savvy folks like Julie of Party Pops by Julie are taking the artistry of the humble cake ball to a whole new level.  Check out this incredible wedding cake – made from cake pops!  According to Julie, This unique "cake" is a three-tier cake pop cake in Red Velvet (the Bride and Grooms favorite!), Death by Chocolate, and Vanilla Creme.  – The "cake" included 200 pops, decorated with cream and black accents  and red flowers to match the wedding theme.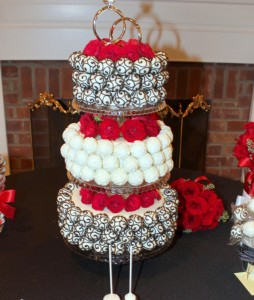 I just love this.  What a fun way to do something truly delightful and a little different for your special day! Here's a nice big pic so that you can see the full display!
Check out our other post featuring Julie's Blue and Orange Wedding Cake Pops here!
Read More:
black and red wedding cakes
,
Black Wedding Cakes
,
fancy cake pops
,
red wedding cakes
,
wedding cake alternatives