asian inspired wedding cakes
0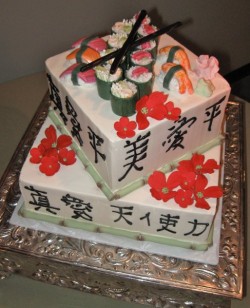 Time for another fabulous themed cake. This one falls in the "juxtaposition of things that definitely don't remind you of cake, but it's so pretty you can't help yourself" category.
I think this cake is absolutely beautiful. The Japanese characters are flawless, and the gumpaste flowers are incredibly lifelike. But the star of the show is the assortment of gumpaste sushi that adorns the top of the cake.
Wrapped in Read More
0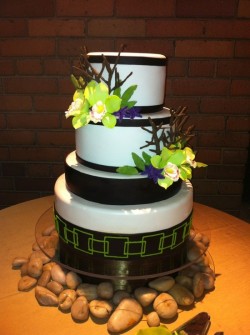 I super need some Zen today.
I am running a half marathon tonight – my first ever race, and I pick a half marathon – and I'm a little nervous about it.  My poor family.  I've been a little on the crabby side this week.
But then I remembered that I had this lovely, Zen-inspired cake tucked away in my "favorites" file for just the right time…and lo and behold, here it is.  Just the right time.
Just looking at this cake calms me the heck down. 
Isn't it elegant?  Four tiers, trimmed in black, Read More