black and green wedding cakes
0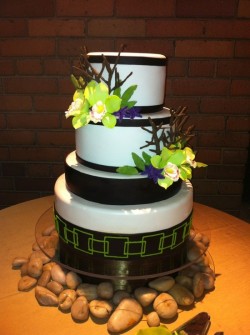 I super need some Zen today.
I am running a half marathon tonight – my first ever race, and I pick a half marathon – and I'm a little nervous about it.  My poor family.  I've been a little on the crabby side this week.
But then I remembered that I had this lovely, Zen-inspired cake tucked away in my "favorites" file for just the right time…and lo and behold, here it is.  Just the right time.
Just looking at this cake calms me the heck down. 
Isn't it elegant?  Four tiers, trimmed in black, Read More
1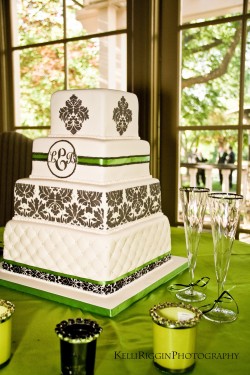 Damask. Is. So. Hot. Right. Now.
But not, Gentle Reader, for your couch. Rather, it is hot for your cake.
Renay Zamora of Sweetface Cakes beautifully serves Middle Tennessee – including Nashville, Mount Juliet, Lebanon, Clarksville, Kingston Springs, Franklin and Murfreesboro.  And Renay, it turns out, is a goddess of damask…as well as gluten-free baking.
You see, that beautiful cake that has captivated you, right next to my words?  Yep.  Gluten free.  Renay tells the story of this special cake, and the bride that goes along with it, so well, Read More
0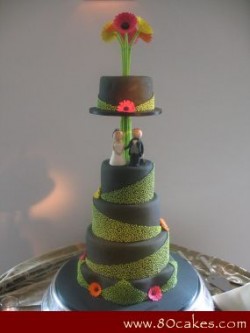 To me a black wedding cake is chic and classy.  I just adore them..and they are typically few and far between.  Especially the good ones.  We've featured a few here like this one.
Today I am so excited because now I get to show you a classic black wedding cake covered in what else..GERBERA DAISIES!  Hi, my name is Christen and I have a tiny obsession with all things gerbera.  Anyway, on with the cake business.  This cake was made by the talented Around the World in 80 Cakes.(Don't you just adore that name?  I wish I was a baker so I could Read More