1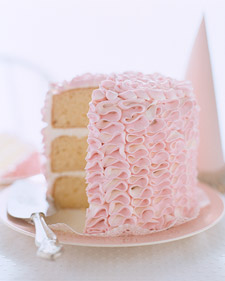 Guess what?
I have hereby determined that it's Ruffle Week here on AWCB.
Why?  Because I have an abundance of ruffle cakes in my Pinterest folder and I have been teaching 2nd grade long enough to know that every week needs a theme.  Oh yes.
To kick off RW '11 (Ruffle Week 2011) we've got to pay homage to the Goddess of the Ruffle herself.  You know who I am talking about.
Martha.
The Princess of the Pastry Bag scores another home-run with the lemon cake with pink and white Swiss Meringue buttercream ruffles.  It's simple and sweet and could be so gorgeous on several bigger cakes or mini-cakes.  Of course Martha wouldn't be Martha if she didn't give you some tips about how to create this ruffly goodness all on your own.  But let's be honest…my Ruffle Cake would never look like Martha's. However, if you're feeling up to it you can check out the recipe here.
Read More:
martha stewart cakes
,
Pink wedding cakes
,
ruffle cakes
,
ruffle wedding cakes
,
small wedding cakes