0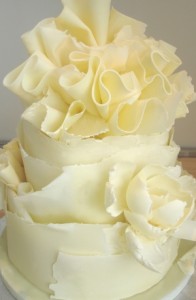 Today, we wrap up Ruffle Week 2011 here on A Wedding Cake Blog with a cake that has a little different take on the frilly furbelows of ruffles.
Ruffles. Meet Chocolate. Helloooo, perfection.
Don't you simply LOVE this cake? Two tiers of cake, enrobed in real chocolate, People. This isn't candy coating, or modeling chocolate. This chocolate has been tempered and made to resemble rustic ruffles, so that each slice of the cake yields a lovely snap. And check out the gorgeous flower pinned to the side, and the topping of – what else? – more chocolate ruffles!
This lovely work is the creation of Nicky Grant, another fantastic London cake artist. Check out Nicky's website when you have the chance. This patissiere and chocolatier is taking it to a whole new level.
Read More:
British Bakers
,
british wedding cakes
,
Nicky Grant
,
ruffle week 2011
,
small wedding cakes
,
unique wedding cakes
,
white chocolate wedding cakes
,
white wedding cakes