ruffle week 2011
0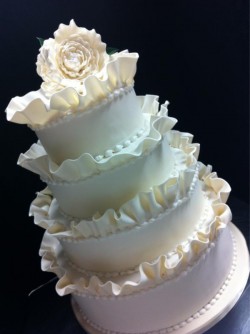 We're apparently in good company when it comes to ruffle love!
You saw our terrific Ruffle Week 2011 last month, yes?  With cascading ruffles, ombre ruffles, and even white chocolate ruffles.  Sigh. We're still kind of pretty-drunk from it all.
But lo and behold, MORE ruffles poured in!  Tasha Nagy from Kick Ass Cakes in Fraser Valley, British Columbia sent me this sweet and pretty cake because she knows we are OBSESSED!  Seriously!  Ruffles!  Pearls! Flowers!  All White!  It's like Tasha made Read More
0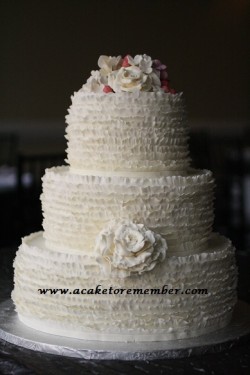 Happy Sunday, Everyone!
I hope this finds you happy, healthy, and counting your blessings, this Sunday before Thanksgiving.  And whether you are going Over the River and Through the Woods, or gathering at a friend's hip apartment with friends, my wish is that you find something to be truly grateful for this holiday season – love, laughter, plenty to eat, and so on and so forth.
But enough lecturing 😉 . We've found some lovely things around the interwebs this week, and we thought you'd like to see them, too.  So without Read More
0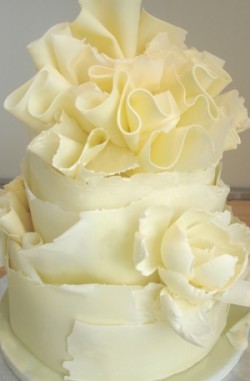 Today, we wrap up Ruffle Week 2011 here on A Wedding Cake Blog with a cake that has a little different take on the frilly furbelows of ruffles.
Ruffles. Meet Chocolate. Helloooo, perfection.
Don't you simply LOVE this cake? Two tiers of cake, enrobed in real chocolate, People. This isn't candy coating, or modeling chocolate. This chocolate has been tempered and made to resemble rustic ruffles, so that each slice of the cake yields a lovely snap. And check out the gorgeous flower pinned to the side, and the topping of – what else? – more Read More