0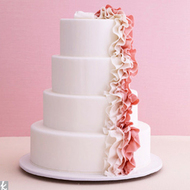 True fact.  Ruffles do not have to take over your cake.  They can cascade down it like some gorgeous waterfall.  Just like this one.
This cake is a three tiered cake covered in flawless white fondant.  I love how the ruffles just sort of fall down the side of the cake in various shades of pink.  I am not sure how but I almost want to wear this cake.  You know, like a shirt.  In fact I think I may own a shirt like this..hmm..
I would love to see this style cake with a darker color to really contrast with the white like a Turquoise or a Kelly Green.  Pink is fantastic of course..but oh the possibilities!
Read More:
fondant wedding cakes
,
pink ruffle wedding cakes
,
ruffle wedding cakes
,
white wedding cakes