branches wedding cakes
2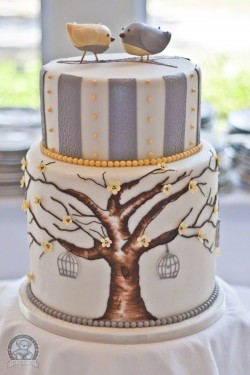 It's one thing to see a cake which features details that prove that the cake artist is well-versed in the culinary arts.  But it's quite another when the baker also proves that she is an artist in the true sense of the word.  Today's featured cake shows just such a gift.  We actually linked to this beautiful hand-painted cake by Dream Day Cakes of Gainesville, Florida, in our Let Them Eat Cake Round-Up last May, but it's so special, we thought it deserved its own post.
Notice the details:  both the tree on the bottom tier, as well as the branch that the bird cake toppers are "perched" on, were handpiped meticulously by baker and cake artist Yeni Monroy.  Fred Read More
0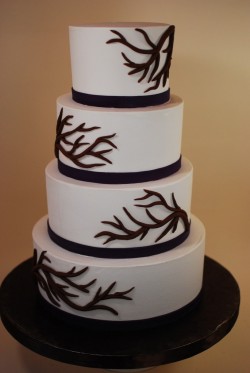 We're gearing up – or maybe you're already in full throttle – for the spectacularity that is the Winter Holiday Season – Merry Christmas and Happy Holidays to YOU!  But do you remember the old days?  The days when Christmas didn't start five minutes after you pushed back from your Thanksgiving seconds?  Or – shudder – right after the Labor Day picnic?
Am I showing my age?  Sigh.
Well…all of that to say that I do remember such a time…a time when you thought…hmm…it's not fall, it's not Christmas…it…just…is.  No pretty leaves, no super crazy snow.  Just beautiful bare Read More