0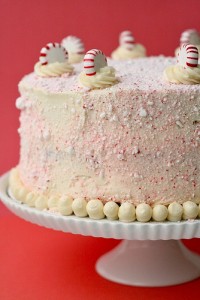 Let's talk about my favorite Christmas Treat. The Candy flippin' Cane.
I know that probably seems like a real head scratcher. Most people would say fudge, shortbread cookies, or gingerbread. My husband would say Sausage Cheese Balls. For me…it's the candy cane. In fact…as I tap out these letters I am enjoying one right now. I guess I should add that I swirled it around and let it dissolve in my hot chocolate first–but oh well. It's that pepperminty taste I crave.
So in honor of my beloved peppermint I decided to feature this Candy Cane Cake made by Annie from Annie's Eats. While this cake is beautiful I am simply in love with the idea of a candy cane dusting over the frosting. This particular cake is a chocolate cake with a white chocolate buttercream frosting. Then of course there is just that faint whisper of peppermint over the frosting. Yum. I think this could be a great idea for a much larger wedding cake. I think it would taste like drinking a huge cup of peppermint hot cocoa. How about you?
Read More:
candy cane wedding cakes
,
christmas cakes
,
Christmas Wedding Cakes
,
peppermint cakes
,
peppermint wedding cakes