christmas cakes
0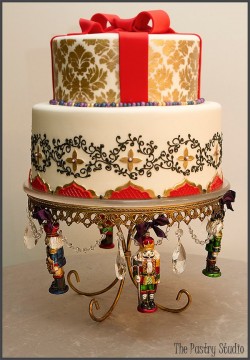 I don't know about you and yours, but around our house, we love The Nutcracker Suite. It's become quite the little tradition in our family, playing the music, watching the video (I favor the old Baryshnikov version), and using the lovely decorations to dress up our home. Even my one year old has become fascinated with moving the soldier's mouth back and forth.
So, of course, I had to share this beautiful cake with you.  Inspired by The Nutcracker, this gilded beauty is the handiwork of The Pastry Studio in Daytona Beach, Florida. From owner and executive pastry chef Sherri Meyers, I learned that the festive Read More
0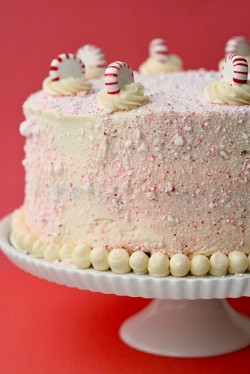 Let's talk about my favorite Christmas Treat. The Candy flippin' Cane.
I know that probably seems like a real head scratcher. Most people would say fudge, shortbread cookies, or gingerbread. My husband would say Sausage Cheese Balls. For me…it's the candy cane. In fact…as I tap out these letters I am enjoying one right now. I guess I should add that I swirled it around and let it dissolve in my hot chocolate first–but oh well. It's that pepperminty taste I crave.
So in honor of my beloved peppermint I decided to feature this Candy Cane Cake made by Annie from Annie's Eats. While this cake is beautiful Read More
0
This is going to be the first of a few cakes that we feature from our friends at Pink Cake Box. Let's face it…these girls know cake and they know how to embrace a good theme with class and style.
This holiday wedding cake is a typical square wedding cake with the three tiers covered in ivory fondant. The base of each tier is trimmed off with a crisp layer of ivory fondant ribbon. The exceptional part of this cake is the hand painted holly leaves and berries on this cake. Truth be told I think the "commercialism" of Read More