0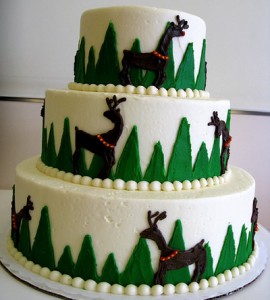 Somehow Christmas Week is upon us. I seriously am not sure how though. It seems like I was just sweating my baguettes off every time I walked outside…but apparently six months have passed since then. Although, it was 79 degrees on Friday. What's up with that, weather gods?
Anyway. It's Christmas Week and I am off for the next two weeks and since Christmas has come out of nowhere I have to cram all my Christmas spirit into the next six days. So I officially title this week Christmas Cake Week 2011! And because every theme week needs a good code name, we'll call this one CCW11. Woot.
To kick of CCW11 I'm starting off with this adorable Reindeer Inspired Wedding Cake. This is a three-tiered round cake covered in a white buttercream frosting. Yum. Santa's favorite reindeer are hand piped on it, in front of gorgeous green evergreens. Luckily, Rudolf (who is very popular in my house) has top billing on the top tier with his cute little red nose!
Read More:
Christmas Wedding Cakes
,
evergreen cakes
,
Green Wedding Cakes
,
reindeer cakes
,
reindeer wedding cakes
,
rudolf wedding cakes
,
white wedding cakes
,
winter themed cakes
,
winter themed wedding cakes