winter cakes
0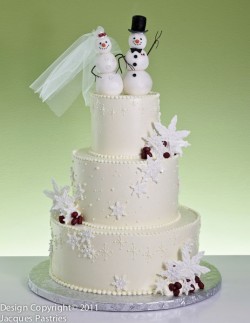 After sweltering and nearly melting in last week's heat wave, I had to find a cake that made me think of cooler temps, and this super cute Snowman Couple cake is it!
I love the simplicity of the cake itself – just white frosting and some gorgeous snowflakes accented with red berries which make the whole cake just pop!
But what really made me smile were the adorable snow people standing atop the snowy white cake. Seriously – how cute are they, dressed in their snowperson wedding best? Who knew Frosty could be so handsome? Read More
0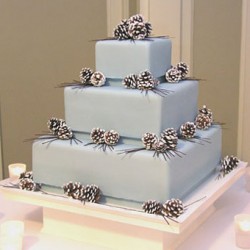 I'm not going to lie.  The day I figured out that spray paint + pine cones = amazing winter accessories for my house I kind of went nuts.  When I figured out that I already owned silver and gold spray paint AND my backyard was littered with pine cones so in essence this DIY decoration was free…I kind of flipped out.
I'm sure these pine cones aren't exactly spray painted (something about that seems incredibly unsafe to be near your edibles) but they are a gorgeous silver on top of an ice Read More
0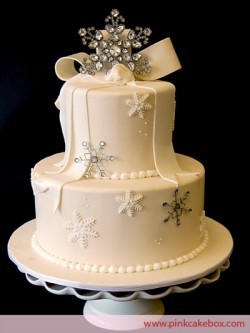 Early this week I featured this Holly Cake from The Pink Cake Box and I promised there would be more treats from The Pink Cake Box during CCW11!
I told you about a dream I had once.  For a winter wedding that included a white horse drawn carriage, (faux) fur muffs and shaw, and white gloves up to my elbows.  The problem with this dream December wedding?  South Carolina can be a little persnickety with the whole winter weather situation.  Like today.  It's 76 degrees.  Last Christmas it snowed.
Anyway, had I gotten to make my winter wonderland dream a reality, this Read More