0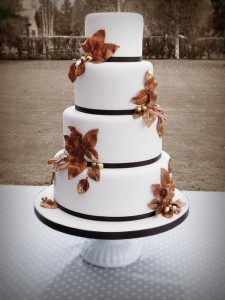 I spied this wedding cake and just had to share it with you.
We love fall weddings, don't we?  That hint of chill in the area with the glorious warmth of leaves changing, setting hills and fields ablaze with their beautiful colors.  But when you distill and dress up the essence of all of those colors, you come away with gold.  If silver is for winter, then gold is surely for fall.
To an otherwise plain, fondant-covered cake with black ribbon trim, cake artist Mina from My Magical Pastries added beautiful bronzen gold leaves, gold berries, and brown buttons, scatted across the base of each layer.  I love best that she treated the trim with a light hand.  It's the perfect amount of embellishment.
Do you love this cake?  Leave a comment below and let us know.
Read More:
black and gold wedding cakes
,
Black and White Wedding Cakes
,
gold wedding cakes
,
leaf wedding cakes
,
seasonal wedding cakes