fall themed wedding cakes
0
There must be something in the air this week as I'm still slightly obsessing over all things fall.
And while this cake would look great at any time of year – but would look amazing in the fall – I had to share it with you.
I found this cake while searching "DIY decorations" and perhaps a DIY wedding is not in the cards for you. However, I'm sure your baker could create some lovely leaves to wrap around your wedding cake. Read More
0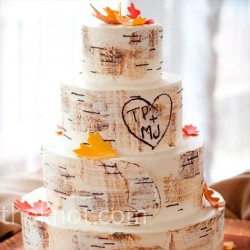 A few years ago the hubs and I decided to tighten the purse strings.  The first thing to go?  Our way too expensive satellite.  And we never looked back.
That is until I realized that we could get those bunny ear antennas and I could still watch One Tree Hill.  Last night I pulled out those bunny ears and got to watching the very last season premiere of One Tree Hill.  In honor of that Read More